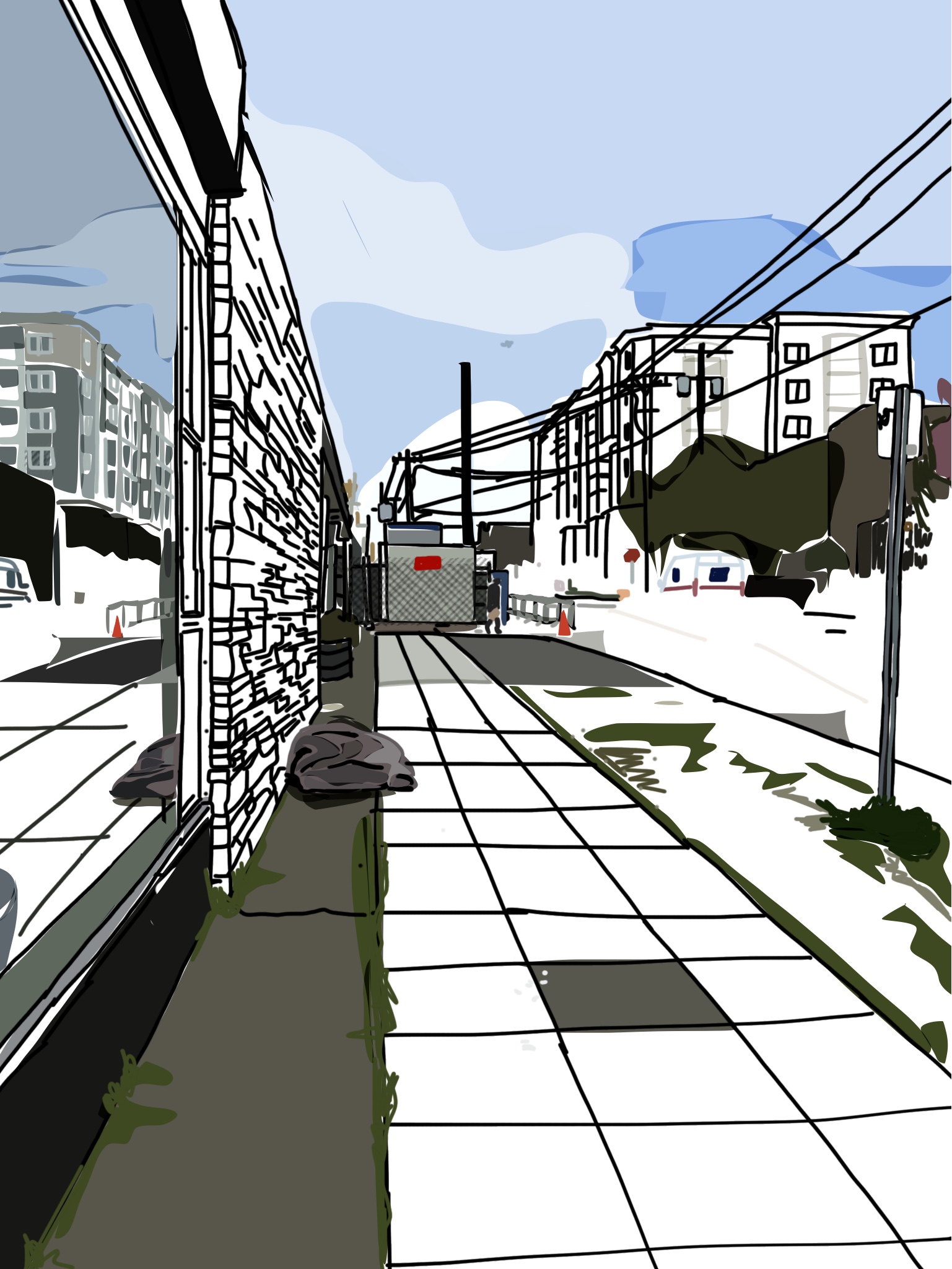 Before 7am, I walk along Market Street to the 40 bus. Sprinkler systems water corporate greenery, a public concession to lessen the anthropogenic harm of real estate developers. Throw a line item in the budget for the gray-haired white liberals -3 dozen Arborvitaes. Sprinklers on timers indicate wealth and conspicuous consumption. The humanistic design lets you know that it's corporate; the rest of the city is overgrown and unplanned. Lawns and parks are brown, bank entrances verdant.
People sleep in heaps of clothing, blankets, boxes and shopping carts in the doorways of vacant storefront waiting to be torn down for redevelopment. The taggers have been through: LEM, ARMOR, LIES.
7-11 bustles with early morning hunger. Men draped in blankets stand outside in the fluorescent half-light asking for change. In the age of apps and smart phones, fewer people carry cash. Will homeless advocates equip their clients with Venmo and a bank account? Lotto board blinks millions.
Stained mattress against sixties stone masonry. Microsoft Connector buses wait for employees to be shipped to Redmond. Lime bike in a sequestered spot left for a round-trip. Women in sports gear exit CrossFit and yoga studios. At this hour, coffee shops serve seniors and people living on the streets. People going to work hastily pick up app orders.
The bus stop is located at the intersection of Ballard Ave. and Market. MATADOR and CATHEDRAL in black. Nightlife hotspots are stale and musty on weekday mornings. The electric bus schedule board says the 40 is 2 minutes away, but it ghosts like millennials after a few dates and a fuck. The next bus is 15 minutes away.
I gave up Instagram so checking my phone is about utility. It seems like everyone is plugged in, heads downward so their necks can grow horns. I think of Matthew Barney's satyrs. Apocalyptic hybridity. I resist the urge to take an Instagram photo. I am still thinking in terms of an audience and hashtags. Phantom skim.
Inklings of a pre-digital brain surface. I think about my mother who died last November. The sadness and finality are overwhelming.